Description
164cm Irontech Silicone Sex doll Miku S14
Meet our 164cm Irontech Silicone Sex doll Miku S14:
I saw you when I was running in the park. Did you know that I like running? In fact, it's one of my passions. Wanna know others? Let me ask you for a dinner and introduce myself… deeper. 
164cm Irontech Silicone Sex doll Miku S14
Description
Super Realistic Series:
Height: 164cm
Shoulder width: 38cm
Bust: 81cm
Under bust:60cm
Waist: 59cm
Hip: 103cm
Leg: 75cm
Arm: 57cm
Thighline:56cm
Feet: 22cm
Weight: 39kg
Function:
Vaginal and Anal sex is available
Vagina:18cm
Anus:16cm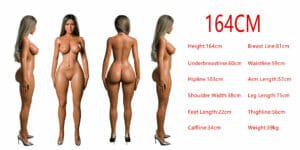 Irontechdoll Silicone Sex Doll Highlights:
1.Soft realistic but tough skin for durable use;
2.Great anti-pressure performance and pressure hints self-recovering capability;
3.Flexible lifelike but tough skeleton;
4.Soulful creation with great focusing on lifelike details;
5.Manipulating friendly.
DELIVERY INFORMATION
1. All the doll will be packed and shipped with qualified protection.
2. All the doll will be delivered with privacy(blind package).
3. You can order certain dolls in USA and EU warehouse, there will be no tax and custom clearance needed.
4. We have special shipping with custom and clearance and tax included.
Please contact our customers support center or our vendors to consult for real time information.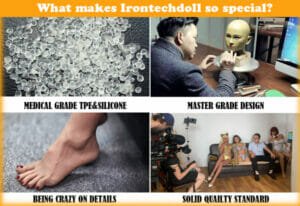 You can also find our videos on Youtube.