Description
Dancer Silicone doll Chloe 160cm C-cup SED098 (SEDOLL)
Meet our Dancer Silicone doll Chloe 160cm C-cup SED098:
Her Story:
Chloe is a Chinese and French mixed race. She moved to French with her families when she was little. She brought some clothes in ancient Chinese styles to French, like cheongsam. Gradually, Cheongsam became the symbol of the motherland also embodied her homesickness.
It took her some time to get used to this strange country and new culture. But gradually she came into contact with western history and noticed the unique texture "lace" of western retro clothing. The dressing becomes a window she started to embrace French. A few years later, she totally adjusted to this place.
In the fusion of the two cultures, Chloe grew up and became a female equipped with the quality of consideration and confidence at the same time, which is rare to encounter. The design of her collar and special buttons symbolize the tenderness of Chinese women, and the thin sexy lace clung to the smooth thighs represents elegance and grace.
She is such a unique woman. Her delicate features and sexy figure have told you her story. Warm brown hairs and eyes send out a gentle temperament, while the dressing tastes just reveal her enthusiasm.
Dancer Silicone doll Chloe 160cm C-cup SED098
| | |
| --- | --- |
| Brand:SEDOLL​ | Name:Chloe |
| Nationality:American | SKU:SED098 |
| Head:#093 | Body:160cm/5ft2 C-cup |
| | |
| --- | --- |
| Height: 160cm | 5ft2 | Material: Silicone |
| Bra size: C cup | Foot Length: 22cm | 8.6 in |
| Bust: 82cm | 32 in | Mouth depth: – |
| Waist: 63cm | 24.6 in | Vagina depth: 17cm | 6.6 in |
| Hips: 93cm | 36.3 in | Anal depth: 15cm | 5.9 in |
| Weight: 38kg | 83.8 lbs | Package Size: 151*39*32cm |
*Measurement data may be inaccurate within 3cm due to different measurement methods by manual, please refer to the actual product.
DELIVERY INFORMATION

Accessories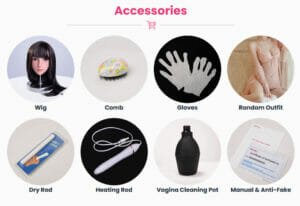 WHY CHOOSE SEDOLL PRODUCTS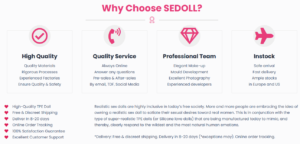 You can also find our videos on Youtube.