Description
ELF Elsa 150cm E cup Life Size Sex doll SED103 (SEDOLL)
Meet our ELF Elsa 150cm E cup Life Size Sex doll SED103:
Her Story:
Elsa and humanity share a world where black and white are reversed, where the sky is always black and the shadow is always white. Every day she walked in the direction of light on the road of exploration.
Strangely, she was always seen as a bad omen. Finally one day, a group of children with sticks chased after her, Shouting: Go away, ghost. It was only then that she finally understood why people hated her.
Halloween is finally here. It is a festival about ghosts, but it is a festival owned by humans. Elsa was dying in humans' orgy, and the light that only Elsa could see was getting closer and closer. People's attention was drawn to the light, which shed the cloak that shields her body, and her vivid face and sexy curves came into sharp focus. The light Elsa has been chasing filled her eyes with purity and beauty, a light of hope that even humans rarely have. Elsa was swallowed up by the light she had been chasing.
Hundreds of years had passed, and in the distance a faint light is burning in the darkness. Elsa came to life, and she starts running toward the spot again. This time, she hopes that the light before her eyes is your shadow, the hope that she has been chasing for hundreds of years is also you.
ELF Elsa 150cm E cup Life Size Sex doll SED103
| | |
| --- | --- |
| Brand:SEDOLL​ | Name: Elsa |
| Nationality:ELF | SKU:SED103 |
| Head:#022 | Body:150cm/4ft9 E-cup |
| | |
| --- | --- |
| Height: 150cm | 4ft9 | Material: TPE |
| Bra size: 32E | Foot Length: 22cm | 8.6 in |
| Bust: 75cm | 29.5 in | Mouth depth: 12cm | 4.8 in |
| Waist: 51cm | 20 in | Vagina depth: 17cm | 6.6 in |
| Hips:77cm | 29.6 in | Anal depth: 17cm | 6.6 in |
| Weight: 27kg | 60 lbs | Package Size: 135*38*25cm |
*Measurement data may be inaccurate within 3cm due to different measurement methods by manual, please refer to the actual product.
DELIVERY INFORMATION

Accessories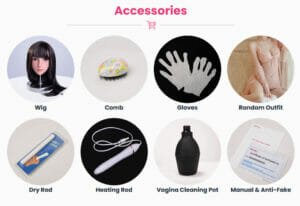 WHY CHOOSE SEDOLL PRODUCTS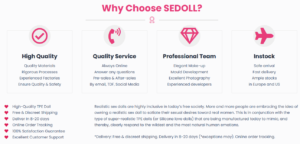 You can also find our videos on Youtube.