Description
Elf Sylph 151cm E cup Sex doll SED122 (SEDOLL)
Meet our Elf Sylph 151cm E cup Sex doll SED122
Her Story
Sylph is the wind elves of the elven race, in charge of the wind in the elven kingdom. The small race that Sylph grew up guarded a crown with infinite power, but they resisted the evil temptation of the crown itself and did not want to harm innocent lives. Both the Human Alliance and the Orcs are trying to obtain it in order to obtain the evil forces that enslave the world. Sylph's mission is to defend the family by controlling the wind and resist the attacks of countless evil half-orcs, black knights and others from outside.
The Sylph family is determined to go to the crater to destroy the magma thrown by the crown into the flames, and they are chased by the enemy along the way. Thus began the journey of escape.
The Sylph family, who advocates unity, stayed on guard day and night, and fought around for a month. The elven family thought that there was no way out, and they made a bold decision: hand over the task of destroying the crown to Sylph, and the family and Sylph were divided into two groups. Sylph, who was still young and had limited magic power, set off secretly in the middle of the night with the crown.
As soon as she arrived at the volcano, the enemies accompanying her also rushed there. Sylph used his own wind to sweep up the magma in the mountain, and the rising sparks suddenly dropped like a sword, destroying the enemy. Sylph, the weakest member of the wizard family of magic, is now the only survivor. After throwing the crown into the crater, she flew back to her homeland and lived with kind – hearted humans.
Elf Sylph 151cm E cup Sex doll SED122
| | |
| --- | --- |
| Brand:SEDOLL​ | Name: Sylph |
| Nationality:Elven | SKU:SED122 |
| Head:#022 | Body:151cm/4ft9 E-cup |
| | |
| --- | --- |
| Height: 151cm | 4ft9 | Material: TPE |
| Bra size: E cup | Foot Length: 21cm | 8.2 in |
| Bust: 75cm | 29.5 in | Mouth depth: 15cm | 5.9 in |
| Waist: 50cm | 19.7 in | Vagina depth: 17cm | 6.6 in |
| Hips:75cm | 29.5 in | Anal depth: 17cm | 6.6 in |
| Weight: 27.8kg | 61.2 lbs | Package Size: 146*38*28cm |
*Measurement data may be inaccurate within 3cm due to different measurement methods by manual, please refer to the actual product.
DELIVERY INFORMATION

Accessories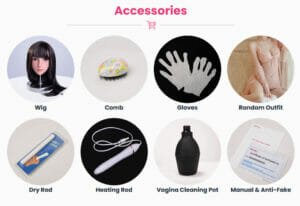 WHY CHOOSE SEDOLL PRODUCTS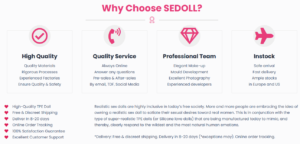 You can also find our videos on Youtube.