Description
Game Lady Doll 167cm Big Breast with Tifa Head
Meet our Game Lady Doll 167cm Big Breast with Tifa Head:
I saw you when I was running in the park. Did you know that I like running? In fact, it's one of my passions. Wanna know others? Let me ask you for a dinner and introduce myself… deeper. 
On April 29, 2022, Game Lady Doll released their new "167cm Big Breast" body showcased on their popular Tifa-inspired head. These new photos feature Tifa in her classic Final Fantasy 7 costume with the white tank top, black skirt, and suspenders. One criticism with the original "Tifa" release was her breasts weren't big enough. Game Lady was apparently not fazed by this because the new body is about the same bust size. In fact, the new "167cm Big Breast" body looks somewhat similar to their previous "168cm Big Breast" body but with some key differences. The main differences is the 167cm body has a shorter torso, longer legs, wider hips, and is 4kg (9lbs) lighter. Her body (especially her abs) also appears more toned and muscular.
– Default options include:
Gel breast, Realistic makeup for body, Implanted eyebrows and eyelashes, finger skeleton, EVO skeleton and movable eyes.
– No additional charge for implanted public hair;
Game Lady Doll 167cm Big Breast with Tifa Head
Description
Material: Silicone  With Metal Skeleton Inside
Height:167cm Big breast
Upper Bust: 82cm
Under breast: 63.5cm
Waist: 58.5cm
Hip: 100cm
Neck: 30.5cm
Arm Length: 63cm
Hand length: 16cm
Shoulder Width: 37cm
Leg Length: 83.5cm
Feet Length: 21cm
Vagina depth: 17.5cm
Anus depth: 16cm
Body Net Height: 147.5cm
Net Weight: 35.5kg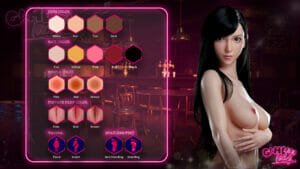 DELIVERY INFORMATION:
1. All the doll will be packed and shipped with qualified protection.
2. All the doll will be delivered with privacy(blind package).
3. You can order certain dolls in USA and EU warehouse, there will be no tax and custom clearance needed.
Please contact our customers support center to consult for real time information.
You can also find our videos on Youtube.
Intimate and professional service
We have a professional and passionate support team that can provide a timely and kind response.