Description
Game Lady Doll 167cm Head No. 3 as Morrigan Aensland
Meet our Game Lady Doll 167cm Head No. 3 as Morrigan Aensland:
On May 27, 2022, Game Lady Doll released new photos of their 167cm Tifa sex doll dressed up as Morrigan Aensland from the Darkstalkers video game series. You might wonder: Why cosplay their Tifa replica as another video game character? Your guess is as good as mine. My guess is Game Lady are designers who contracted a factory (most likely Zelex) to produce their dolls. While they wait for the factory to finish sculpting their dolls, they are "killing time" with new photoshoots of their existing dolls. In this new photoset, Tifa's hairstyle looks the same, but is neon green instead. The bright wig really brings out her face. I'm surprised they didn't change her eye color to better fit the cosplay.
– Default options include:
Gel breast, Realistic makeup for body, Implanted eyebrows and eyelashes, finger skeleton, EVO skeleton and movable eyes.
– No additional charge for implanted public hair;
Game Lady Doll 167cm Head No. 3 as Morrigan Aensland
Description
Material: Silicone  With Metal Skeleton Inside
Height:167cm Big breast
Upper Bust: 82cm
Under breast: 63.5cm
Waist: 58.5cm
Hip: 100cm
Neck: 30.5cm
Arm Length: 63cm
Hand length: 16cm
Shoulder Width: 37cm
Leg Length: 83.5cm
Feet Length: 21cm
Vagina depth: 17.5cm
Anus depth: 16cm
Body Net Height: 147.5cm
Net Weight: 35.5kg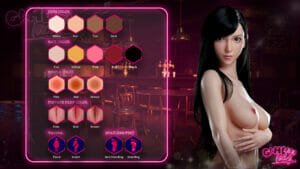 DELIVERY INFORMATION:
1. All the doll will be packed and shipped with qualified protection.
2. All the doll will be delivered with privacy(blind package).
3. You can order certain dolls in USA and EU warehouse, there will be no tax and custom clearance needed.
Please contact our customers support center to consult for real time information.
You can also find our videos on Youtube.
Intimate and professional service
We have a professional and passionate support team that can provide a timely and kind response.