Description
HOT Jenny Realistic Sex doll SED119 161-F cup (SEDOLL)
Meet our HOT Jenny Realistic Sex doll SED119 161-F cup:
Her Story:
Jenny grew up in a poor family. When she was 18 years old, in order to obtain a sum of money for diamond earrings, she sold her first night to a physically disabled dwarf. From this she began to become a sex worker. For her, this is just a transaction of money and body.
Jenny doesn't like this job, but she has no better choice to make money. The money earned was spent by Jenny on things that made her look more beautiful. Jenny lived a life as ordinary as a normal girl, until she met a client her age.
She fell in love with the man and things started to get out of control. She used to be a haughty and dignified sex worker, and after having sex with clients, she left blankly. In the face of love, she became humble, naive, soft, and resistant. She is like a budding flower, after falling in love for a short period of time, it begins to wither. Such a relationship ends in embarrassment if it can't even be called love.
Despair and grief haunt her like a poisonous snake.
But love has a kind of magic power, love gives every fragile and kind person unlimited hope of resurrection. Are you willing to save her?
HOT Jenny Realistic Sex doll SED119 161-F cup
| | |
| --- | --- |
| Brand:SEDOLL​ | Name: Jenny |
| Nationality:EUROPE | SKU:SED119 |
| Head:#088 | Body:161cm/5ft3 F-cup |
| | |
| --- | --- |
| Height: 161cm | 5ft3 | Material: TPE |
| Bra size: F cup | Foot Length: 21cm | 8.2 in |
| Bust: 83cm | 32.7 in | Mouth depth: 15cm | 5.9 in |
| Waist: 50cm | 19.7 in | Vagina depth: 17cm | 6.6 in |
| Hips: 89cm | 35 in | Anal depth: 17cm | 6.6 in |
| Weight: 35kg | 77.2 lbs | Package Size: 153*40*30cm |
*Measurement data may be inaccurate within 3cm due to different measurement methods by manual, please refer to the actual product.
DELIVERY INFORMATION

Accessories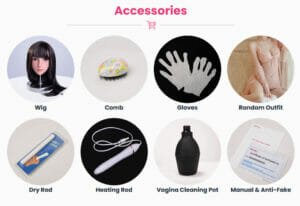 WHY CHOOSE SEDOLL PRODUCTS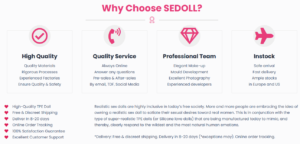 You can also find our videos on Youtube.